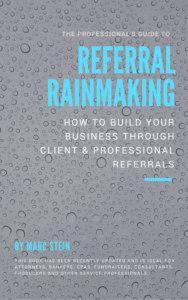 Referral Rainmaking; How to Build Your Business Through Client and Professional Referrals
Finally, a Practical Guide to Profitable Rainmaking
No direct selling. No advertising. No cold calling ever again.
This program is ideal for attorneys, bankers, CPAs, consultants, producers, and other professionals. The strategies are universally applicable to all types and sizes of professional service businesses and will provide you with a simple yet extremely effective way to originate new and repeat business without expensive marketing, cold calling, or direct selling.
In this recently updated executive briefing-style book, you will finally understand how to communicate your uniqueness in a way that will make your prospects; clients and peers gladly recommend you to their friends and colleagues. In just one sitting, you will learn seven proven steps to systematize your efforts to produce a predictable, sustainable and extremely profitable stream of referral business.
How to Develop Your Perfect Elevator Pitch
How to Get Your Clients to Give You Referrals
How to Create Recurring Peer-to-Peer Referrals
How to Respond When You Get a Referral
How to Get On The Short List
How to Generate Credible Word-of-Mouth
How to Build Your Personal Network
It will not be necessary to do everything written about in this book, and in reality, you can become very successful by selecting only the ideas that match your personality perfectly. If something doesn't feel right, just don't do it. One of these simple ideas could change your business trajectory forever.